How to Protect Your Skin in Sun Safe STYLE
Let's get right to the point

: What you can't see can still harm you and by that, I mean the sun's damaging rays. The Advice Sisters have done many sunscreen reviews (check our search box on the upper right-hand side of the page) and there are other ways to help protect yourself from the sun, including the advice sisters feature on how to get good sunglasses, and sun-protective, UPF-rated clothing. This article shines a spotlight on Lands Ends' remarkable UPF 50 sportswear along with some important facts about sun protection! 
One in five Americans will develop skin cancer in the course of a lifetime, and rates of melanoma (a skin cancer the size of a dime can potentially be fatal)  have been rising steadily for the past three decades. Unfortunately, sun damage builds over time. Basal Cell Carcinomas (most common form of skin cancer) and Squamous Cell Carcinomas (the second most common form) are caused primarily by sun exposure and develop most commonly on sun-exposed areas, including the face, ears, neck, lips, scalp, and the backs of the hands.  Even if a skin cancer isn't fatal, treatment can be very disfiguring and painful. .  You can see the visible and immediately damage of a sunburn, but  over the course of a lifetime, the damage includes wrinkles and premature aging of the skin and the potential for skin cancer. You don't have to bake in the sun to be at risk for sun damage either. Up o 80% UV rays can travel through clouds, fog and haze and even through glass at home and in through your cars windows and sun roof.
The good news is that you can protect yourself with broad spectrum sun screens and UPF clothing. It' never too early or too late to start.  
Not all sun screens are suitable for all skin types or situations. For example, water/sweat resistant SPF products contain ingredients that help them stick to moist skin. Some products require half an hour or more pre-time to become effective. Some contain chemicals that can irritate sensitive skin or skin conditions. The average adult needs 1 oz (or 25% of a 4 ounce bottle of product) to be properly covered (most people don't use that much and forget to re-apply it regularly).
 

 Dr. Bank's Tips to help you keep your skin safe in the sun, every day!  
Dr.  David Bank, a Board Certified Dermatologist, Assistant Clinical Professor of Dermatology at Columbia Presbyterian Medical Center, author of Beautiful Skin: Every Woman's Guide to Looking Her Best at Any Age and the Founder & Director of The Center For Dermatology, Cosmetic & Laser Surgery in Mt. Kisco, NY. has some suggestions to stay safe in the sun:
Dr. Bank advises you to protect not just your body, but the other areas that are often overlooked when we apply sunscreens.  Hands and lips, for example, are often neglected when applying sun protection, particularly for outdoor enthusiasts, so Dr. Bank suggests that you select a lipstick or lip balm that contains sunscreen for extra protection, and don't forget to apply sun protection to your hands as well as the other parts of your body!
When it comes to sun screens, many dermatologists feel that "physical blockers" offer superior protection because these block the entire spectrum of light, not just the ultraviolet light.  Dr. Bank recommends products that protect against both UVA and UVB rays with an SPF of at least 30 for daily use and SPF 40 for extended exposure.  Sunscreens not only block the short wavelength, ultraviolet B light of the sun but also the longer wavelength, ultraviolet A rays.  There is a difference between sunscreens, which get into the skin and absorb the energy from the sun before it gets into the skin cells, and sunblock, which block the ultraviolet light, causing it to reflect off the skin so it never gets into the skin in the first place.  Think of it as having a mirror sitting on the skin's surface.  Dr Bank advises: "If you do nothing else at all, always use a broad spectrum sunscreen on a daily basis!" 
 If you have sensitive skin, an ingredient to be aware of is PABA (para-aminobenzoic acid), an active sunscreen agent that approximately 1 to 5% of the population is allergic to.  This can be a reaction to either fragrance, a preservative or a chemical sunscreen in the product they're using. Dr. Banks suggests testing any new product on a small area of your body, such as the forearm, before applying all over to see if you have a reaction.  If you are allergic, you must use a PABA-free products.
Dr. Bank's healthy skin suggestions for everyone *not just those with sensitive skin: 
– Use a moisturizer, even in the summer or in sunny weather. This will work to keep the skins barrier intact to protect against wind, sun, sweat and salt water.
– Use mineral based sunscreen for broad spectrum protection and re-apply every 2 hours.
– Don't just rely on sunscreen in make-up products.  Usually the SPF in make-up products is not high enough for adequate protection.  A sunscreen in a daily moisturizer is a better option as these can usually applied evenly all over the face for better protection.
– Sun protective clothing can be used is a great alternative for sun protection without applying creams, especially for kids.
LANDS END'S SUN PROTECTIVE CLOTHING CAN HELP SAVE YOUR SKIN AND SHOW YOUR STYLE:
Technology has made it possible for the fabric to be a great sun-protective coating.  If you're the type who just doesn't like sunscreens, cover up with UPF-rated hats, shirts, dresses, pants and even swimsuits, all woven from products that protect you from the sun!
UPF (Ultraviolet Protection Factor) relates to broad-spectrum (UVA/UVB) protection by fabrics that block the sun. One of our favorite brands, LANDS END, has an amazing array of  products with UPF 50 that can be worn with your SPF protection suns screen or for when you're "out and about." Do consider that any skin that is not covered by the UPF garment is exposed, however.
One item that I fell in love with at the Spring/Summer preview and couldn't wait to wear this is the fabulous Lands End Women's Swim Cover-up Tunic Dress – Black Tropical   Item #457752
AJ7  $89.00 — Lands End calls it a swim cover up, but it is so much more than that. I wore it to a birthday party dinner and got lots of compliments. Everyone was shocked when I suggested that if I fell into the water, the dress was made from swimwear material and therefore it wouldn't be ruined!  But you just can't call this simply "beachwear." You can dress this up with some accessories and cute sandals, and it's a dress for daily wear as well.  But the most important and amazing thing about this swim cover up tunic dress is that it has UPF 50.  I felt stylish, but the fabric protected my arms and body as well.
That said, you can certainly can wear this to the beach as it is made out of (nylon/spandex) swimwear fabric .  It's a no brainer as a travel must-have.   This dress keeps its shape, doesn't wrinkle, feels comfortable even in the heat, and it has that all important UPF 50 protection (wherever it covers your body).   The simple, straight shape is flattering to just about everyone.   As you can see from the options below, there are more conservative prints to choose besides the ""Black Tropical" which I thought was the most "fun."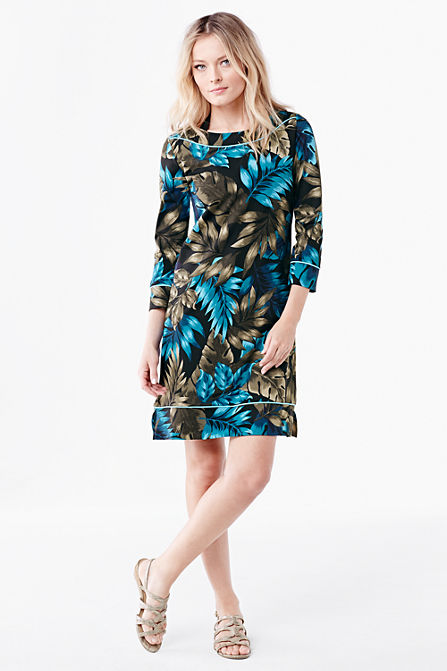 Lands End sizes can be a bit unpredictable, but they have a 
FIT PREDICTOR
 to help you figure out what size to get (Approximate shoulder-to-hem length: Regular, 35" runs true to size) but you can check the
Size Chart
: The dress is available in 
Extra Small 
XS; 
Small 
S; 
Medium 
M; 
Large 
L and 
Extra Large
XL. Although I usually would get a Medium Large, I opted for the Large because I wanted a little more room in case I really did want to wear this over a swimsuit.
…and as long as we're talking "beachwear" NO ONE makes more UPF 50 swimwear than Lands End. and their options for mixing and matching are almost limitless. They make each piece in a wide variety of styles and sizes so there will always be something flattering that fits you and that also protects your body (where the swimsuit covers your skin — SPF protection is a must for the rest of you).
Eager to try one of the Lands End UPF 50 swimwwear styles, I choose a tankini (there are some gorgeous one-piece Lands End UPF 50 suits as well). I selected the elegant Lands End Women's Shape & Enhance Ultra Bandeau Tankini Swimsuit Top (in "Black Geo")  – Item #456153
AJ3 ($109.00)  *check the Fit Predictor and SIZE CHART to find your perfect fit.  You can even Order a free Fabric Swatch if you are undecided.  It is a bit pricey,, but the benefits are priceless. The Lands End's Shape & Enhance Collection features fabric that is specially knit with varying levels of control throughout to offer more control at certain points of the body, such as the tummy area, to help smooth while allowing comfort and flexibility at other points, like at the side and under the bust. 73% nylon/27% spandex. Hand wash. Imported.
The flattering soft cup bandeau with halter style tie gives you shape without any underwires to poke you, and tummy control that does good things for your midsection (plus all-over shirring to take eyes off figure flaws). The one thing I didn't count on was how strong the control was.  Getting the suit on and off was challenging, although once on my body it was comfortable. There's a lot of control in this top to help you look sleek, even when the suit gets wet (suits often tend to loosen up).  Silicone printed onto the inside of the lining is something you don't feel, but it gives extra tummy control. Much appreciated!  Lands End makes noncontrol swim wear as well, of course.
Once you've chosen your top it's time to Get some matching bottoms.    Lands End makes Shape & Enhance bottoms that coordinate with the tankini tops. I thought about the cute, skater skirt, but opted instead for a basic boy short" bottom with a high waist, a Lands End Women's Shape & Enhance Ultra High Waist Bikini Bottom Item #425080
AJ3  $69.00. This gave my tankini a sleeker line.  This bottom is a bit reminiscent of a giant control garment,  but you'll never see it since the top covers the bottom. Another thing to note is that these are not ordinary bikini bottoms. These are designed to be worn higher (just below the bra line) to smooth your entire middle.  You will get targeted control thanks to 73% nylon/27% spandex. When you're on the beach and wearing something with a high top and a lot of control in it (this one I'd categorize as medium control) you don't want to get "squished" all day and this one gives you control but without sacrificing comfort.  It's best to check the Fit & Size Information before you order. The bottom comes in regular and plus sizes 2-18 in regular, 16W-24W in plus.  Color options are:  Sarsaparilla; Black; and Deep Sapphire. You can Order a free fabric swatch if you're are not sure which color you want.
Although I didn't review them personally, I'm including a photo of some of the Other Lands End swim Tees/rash guards because they are also UPF 50 and they're so stylish, you can just wear them as tops….or to the beach and the pool. 
It's so easy to protect yourself from the sun's damaging rays every day in everywhere, and do it in STYLE! Ready to Shop?    Visit the Lands End Web Site, or call 1.800.963.4816 or check the Store Locator