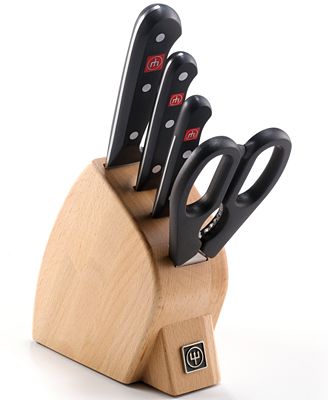 Have you ever been to a restaurant where the meat was delicious, but the steak knife made it less lovely to cut and eat it? And who hasn't reached for a utility knife only to find it is so dull you can't cut a vegetable with it?  My personal issue is that I'm always foraging for a good scissor at a moment where none seem to be around.
 Like anything else in life, good tools make for a better experience. Knives and scissors are such utilitarian, must-have, fixtures in our homes, even you are a gourmet chef, you might not think too much about them on a daily basis.  In fact, think about the collection you already have.  If you are like me, you probably have at least some knives that  "mom" got from the gas station, or "Green stamps"  but she gave them to you when you went off to college or started your first apartment (and how long ago was that?) and they still work…sort of.
It is time for an upgrade!
One set that I like and that costs less than $100 is the 
WÜSTHOF  CLASSIC

 Cutlery, Gourmet Studio 5 Piece Block Set ( $149.00).
  This set has a
knife block
plus three must-have basic knives and a utility scissor, housed neatly in a row. The genuine wood  knife block has a slim profile. It is genuine wood, solid and beautifully crafted, with a small, square and elegant Wustoff logo on the front.  There are four little feet on the bottom to make the block not just secure, but to protect your kitchen counter.  It just looks luxurious.
But it is the knives that you are buying, and the three in this set are the ones most people think of as the must have basics. 3.5-inch Paring Knife ; 4.5-inch Utility Knife; 6-inch Chef's Knife and Come-Apart Kitchen Shears.  My favorite is the 6″ cooks's knife that is excellent for chopping and cutting up just about anything from a soft tomato to a tough steak.  These knives look pricey and they are beautifully made.  The handles aren't wood, they are wood-like POM (polyformaldehyde plastic) with  secure, three rivets.  On the other hand, plastic is much easier to keep clean and they won't warp as wood might.   POM  can stand the heat up to about 330F before it starts to deform and melt.
I'm not a gourmet chef, but I've used a lot of knives. These feel substantial and will make even a novice in the kitchen, comfortable. The  company's signature bolster/finger guard appears at the base of the blade and the knife feels balanced in the hand.   The blades are superb —  laser tested edges for uniform cutting (they are very sharp).  The Solingen name is also stamped on each  WÜSTHOF   blade  so  you they were made in Solingen Germany.  These classic knives  WÜSTHOF's also feature a patent-pending Precision Edge Technology (PEtec).  The new Precision Edge Technology (PEtec) enhances the blades sharpness by 20%, and will last twice as long. Each knife features a computer controlled cutting edge to ensure the final edge of the blade is precise and uniform from the tip to the heel of the knife. WÜSTHOF  knives also have a a 14° cutting edge on each side. This new angle and more tapered cutting edge reduces the drag when slicing through foods, making it easier to cut. . Each knife blade is  also completely buffed & polished by hand
Every chef needs a pairing knife and a utility knife, but my favorite is the  6″ cooks's knife that is excellent for chopping and cutting up just about anything from a soft tomato to a tough steak.  The other two knives will give you what you need to do any kind of job in the kitchen. If you have these three excellent knives, you have the basics for food preparation.
But if you are like me, you'll really appreciate having the WÜSTHOF shears at the ready in the knife block as well.  The blades come apart for easy cleaning  and re-sharpening but they re-assemble securely and easy — that's not something a lot of shears can do.  They are also easy to use for both left and right-handed people. The middle of the shears has ridged metal edges to open a jar or a jar cap. They are sharp enough to cut through "tough stuff" but can cut paper too.  This will be a man's  favorite tool even if he usually never ventures into the kitchen for more than a beer.
At less than $30.00 per piece , you can consider this high quality starter set to be a bargain that might last a lifetime.  Consider too, that WÜSTHOF  knives with Soligen blades have been created in Germany for more than 200 years. In fact, the  first WÜSTHOF factory was listed as early as 1814 in official documents of the Duchy of Berg. Additionally, the famous "Trident" logo was first registered in 1895. With a proud tradition that spans 7 generations, the family-owned and managed company continues to uphold its simple mission to create the finest cutlery in the world.  So you're not just buying a classic, you're buying a tradition that perhaps you'll pass down to your own children, or someone else that you admire and love.   This would also make a great gift for newlyweds, or for the holidays.
The Wusthof – Classic 5-Piece Studio Set- is sold in select department store in 90 countries around the world. They are sought-after and used in the finest dining establishments, and the most prestigious culinary institutions training tomorrow's rising star chefs.  For further information please visit www.wusthof.com.
Follow on Twitter: www.twitter.com/wusthof
Like them on Facebook: www.facebook.com/wusthof1814
visit WÜSTHOF's new multi-media microsite: www.wusthofedge.com.
CONNECT WITH ME:  If you liked this post, feel free to re-post it, share it, tweet it,  pin it (icons for this are on the top of the page).  Here are other ways to connect with me:
NEW:   I am starting a new b
ook project with my co-author, Anthony Sabatini.  The working title is: Road Gypsies: the Unsung Lives & Untold Stories of Rock and Roll roadies.  We are just getting started, and we're really excited, but we'd love your support. We have a Twitter handle and a Facebook Page. We'll be posting our progress as we travel, interview roadies, bands, and more.  Find out what really goes on behind the scenes,      LIKE THE ROAD GYPSIES BOOK PROJECT ON FACEBOOK,    FOLLOW ROAD GYPSIES BOOK PROJECT ON TWITTER @RoadGypsiesBook
 Ask a relationship question  (everyone has something on their mind, or they know someone else who does and they'd like to help). You will get a"Double-Take" (two views, his & hers) answer through my relationship oriented web sites:   Leather and Lace Advice (and Spice).  There is a  Secure Privacy Policy and only the core of your question is used–no one will ever know it's you or  your question.  
Learn More About Leather and Lace Advice & Leather and Lace Spice   
Learn more about Alison Blackman
Like the Alison Blackman/Advice Sisters Facebook Page
Like the Leather and Lace Advice/Spice Facebook Page

Follow Leather and Lace Advice @LeatherlaceAdv on Twitter